Việt Nam's economic outlook brightens
HÀ NỘI — Việt Nam's economic prospects from 2018 to 2020 is looking up, as the international community acknowledges and appreciates the country's role and responsibility in integrating and implementing international economic commitments.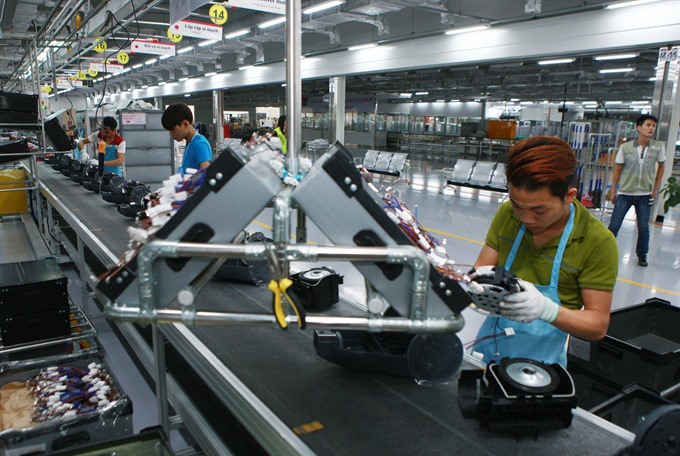 Production and assembly chain at LG Electronics Việt Nam's factory in the northern port city of Hải Phòng. — VNA/VNS Photo Lâm Khánh
Speaking at a conference on economic development yesterday, Nguyễn Chí Dũng, Minister of Planning and Investment emphasised Việt Nam's position and prestige had been raised to new heights in the world economy.
The country's various index rankings have improved significantly, such as business environment index up by nine percentage points, competitiveness index increased by five, innovation index increased by 12, and overall rating of economic prospects moving from stable to positive, said the minister.
According to Dũng, Việt Nam's socio-economic development results in 2018 have so far been very positive, following 2017's development momentum.
The GDP growth rate in the first quarter was 7.38 per cent, the highest in the last decade, while macroeconomic factors continues to be stable, inflations rate are also under control.
Consumer price index (CPI) in the first four months of 2018 remained at a low level, having increased by 2.8 per cent. The money market liquidity and banking system are stable and ensured.
Disbursed FDI reached US$5.1 billion, up by 6.3 per cent from 2017's first quarter, along with more than 41,200 newly established enterprises with a total registered capital of about VNĐ412 trillion ($18.2 billion).
Total export turnover is estimated at $73.76 billion for 2018's first quarter, up by 19 per cent year-on-year, with trade surplus around $3.39 billion.
Dũng was positive about such encouraging signs, saying that a number of administrative reforms and innovations will continue improving the country's business environment and domestic demand, as well as positive impact from recently signed free trade agreements, namely the Comprehensive and Progressive Agreement for Trans-Pacific Partnership.
Regarding economic growth, Nguyễn Mại, Chairman of the Vietnam's Association of Foreign Investment Enterprises (VAFIE), said the country's level of foreign investment attraction, especially in the private sector, was an important factor contributing to overall economic growth.
He believed that 2018's total FDI invested capital would reach $19 billion, since 2017's number was already a record breaking $17.5 billion.
Warrick Cleine, Chairman and CEO of KPMG in Vietnam and Cambodia, highly appreciated growing investors' confidence in the Vietnamese economy and business environment.
In the medium and long term, Minister Dung said Việt Nam's economy promised both opportunities and challenges, with forecasts suggesting that average GDP growth in Việt Nam in the 2018-2020 period might reach 6.85 to 7 per cent annually.
He also added that the Government was aware of internal problems, as well as negative external impacts that might affect the country's economic development, as Việt Nam aimed for a breakthrough towards rapid and sustainable growth on the basis of technology.
However, there was much to do before such goals and expectations were achieved on all levels of administrative government and economic sectors to maintain the growth momentum, said Dũng.
Yesterday's event was organised by the VAFIE in collaboration with KPMG Vietnam. The key focus was placed on analysing and assessing the country's economic situation and prospects until 2020, as well as practical solutions for a new sustainably driving force for growth. — VNS
Read more at http://vietnamnews.vn/economy/428051/viet-nams-economic-outlook-brightens.html#yfeU6McYjv1vFEOA.99