Project to install a full-body sterilization chamber in Ho Chi Minh City City Committee
On March 27, 2020, Ho Chi Minh City Party Committee (127 Truong Dinh – District 3) successfully installed Hypochlorous Acid portable full-body sterilization chamber and became one of the pioneers in the city. .HCM uses this method to limit the risk of Corona virus infection.
OSG P3 mobile full body sterilization chamber is the result of research cooperation between TU-SEIKI Joint Stock Company (Vietnam) and OSG Group (Japan). These are well-known units of products related to water treatment solutions in general and water disinfection solutions in particular. TU-SEIKI is a reputable company with more than 20 years of experience specializing in providing top quality Vietnam standard quality gas dryers, boilers and alkaline water solutions and disinfectant water. OSG is a group of manufacturing and trading in the field of high-end functional water, famous for its top water purifier, alkaline ion water electrolyte and disinfection water electrolyte in Japan, with more than 50 Years of experience, more than 1000 exclusive patents.
Experts are conducting installation and inspection of a mobile full-body sterilization chamber in Ho Chi Minh City
The whole body sterilization chamber is an open chamber operating by automatic gas injection mechanism when someone enters the chamber. The product is equipped with modern mist technology, tap water is supplied directly to the PG-3.0 device, then electrolyzed into mild acid hypochlorus disinfectant, HClO water will be led to the water tank and go through the mist sprayer. At that time, mist-type HClO water will be sprayed through the spray holes to disinfect, not causing wetness but still ensuring the requirement of easy disinfection of the whole body. When the green light turns on, the disinfection system is ready to go. When someone enters, a red light will light up to indicate that the disinfection system is working. The mist spraying system is designed to be multidimensional so the user only needs to rotate 2 turns at the opposite position of the cylinder within 15-30 seconds to disinfect the whole body (including clothes and all skin areas). After the sterilization process has finished, the green light will turn on the red light to notify. When there is no user, the chamber will automatically stop spraying.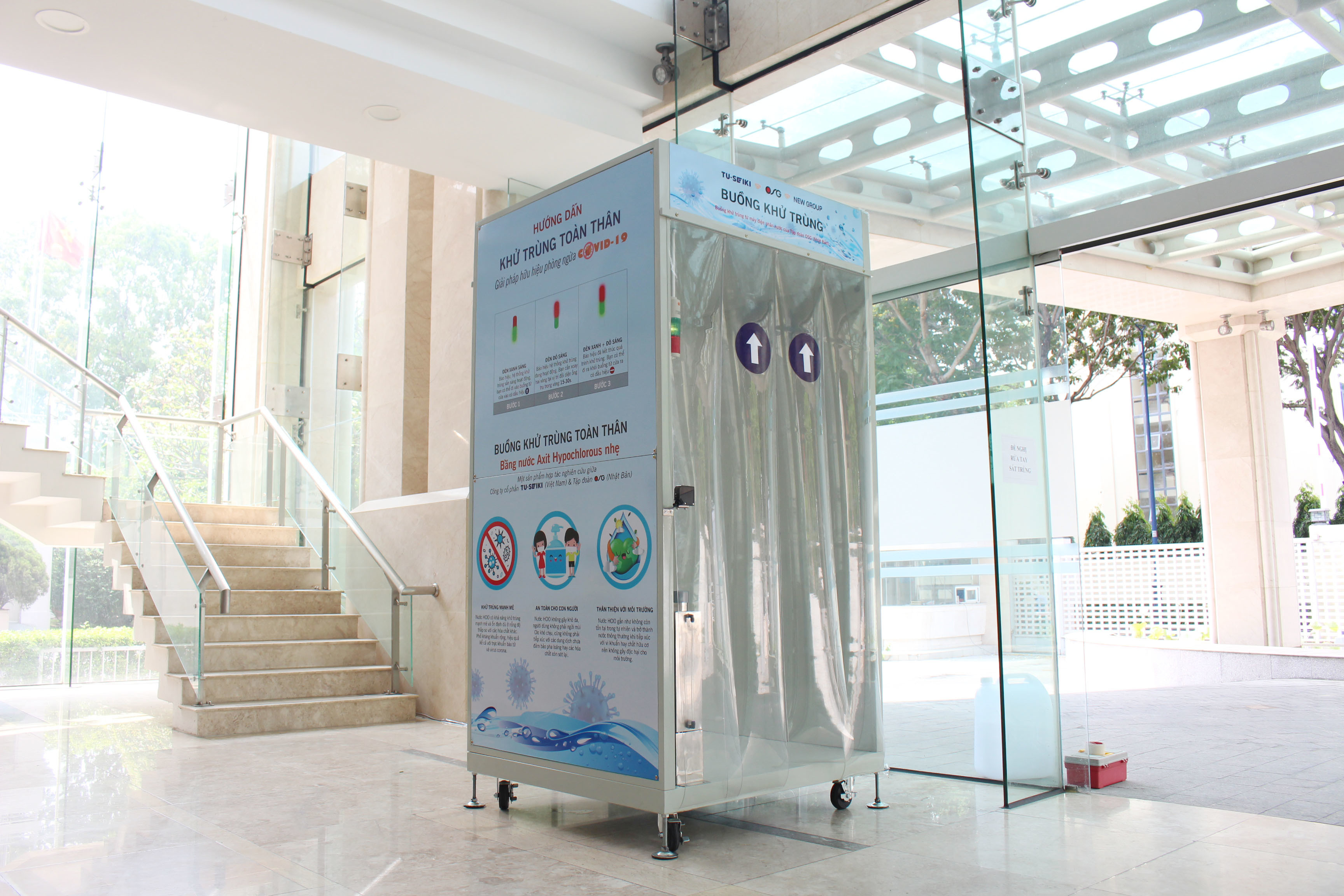 Portable full body sterilization chamber with electrolytic machine PG-3.0 of OSG Corporation Japan
Currently, the most concern about the sterilization chamber is that the chemical used to spray is not guaranteed, causing harm to humans and the environment. However, with a full body sterilization chamber with Hypochlorus Acid water, users can be completely assured about this issue.
HClO disinfectant solution has been prepared and tested for safety factor before being used. Hypochlorus Acid Water is slightly acidic, like disinfectants 84 but the difference of HClO is generated in the range pH 5 – pH 6.5 is weak acidic with a low concentration of 50-70 ppm, which helps to achieve High disinfection results but still absolutely safe, has been clinically proven by the Center for Biosafety of Japan.
Compared with other chemicals, HClO has many advantages thanks to its strong and stable disinfection ability even at low concentrations, especially broad antimicrobial, effective even against bacillus spores and Corona virus.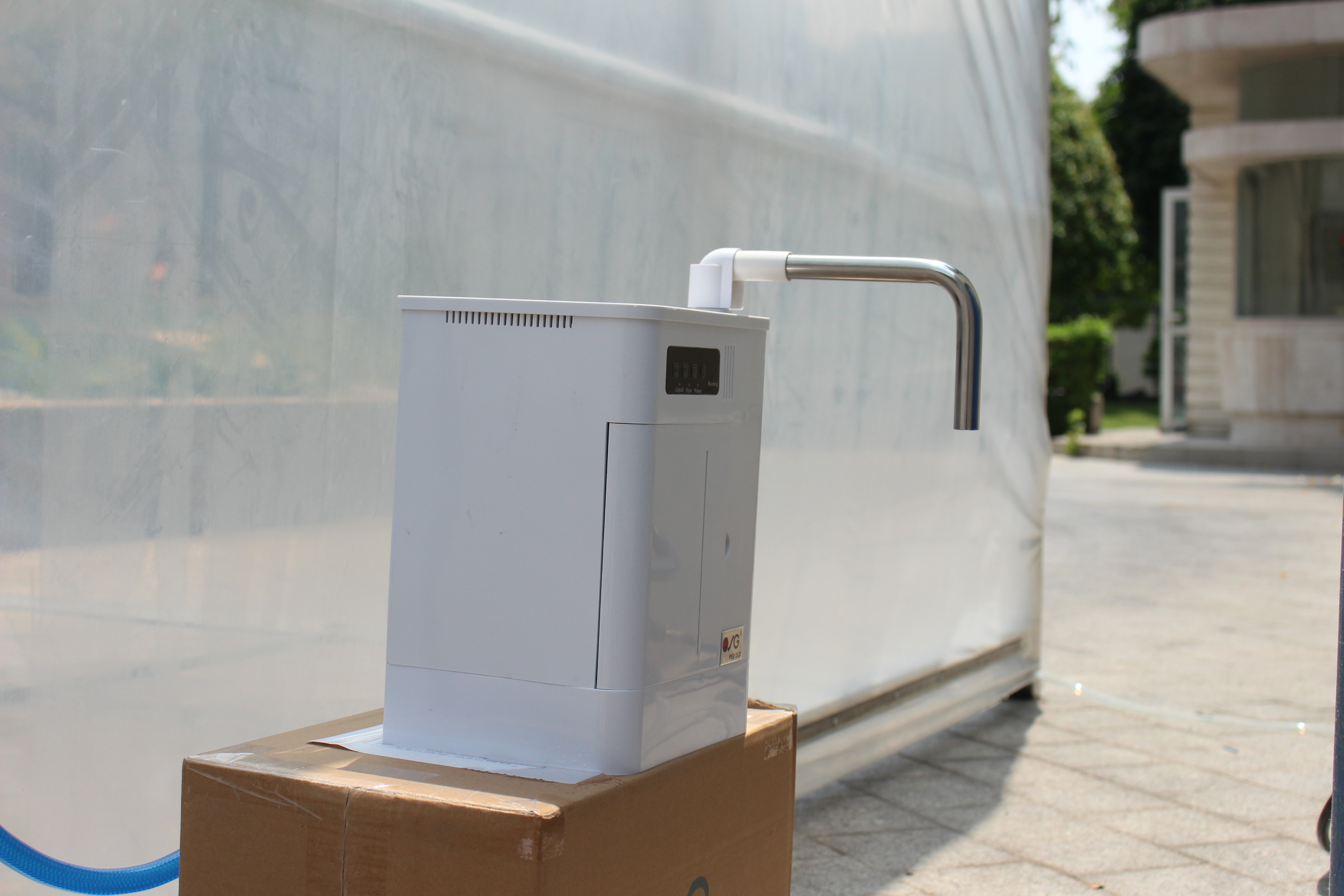 Electrolytic water sterilizer PG-3.0 of Japan OSG Corporation
There is no unpleasant odor, HClO does not cause dry skin, you do not have to worry about being exposed to undiluted solutions or residual chemicals. In particular, HClO almost no longer exists in nature and becomes normal water when in contact with bacteria or organic substances, so it is not toxic and extremely friendly with the environment.
It only takes 15 – 30 seconds to spray, the user's whole body has been effectively and safely disinfected.This is a simple, time-saving solution that is extremely suitable for public places, often many people visit such as supermarkets, hospitals, schools, state agencies.
After being successfully installed in Ho Chi Minh City Party Committee, quite a few testers shared: "This is a quite wonderful experience, inside the sterilization chamber there is no unpleasant chemical smell, cleaning, disinfection. the whole body also helps me feel more secure, besides wearing a mask and washing my hands often with soap.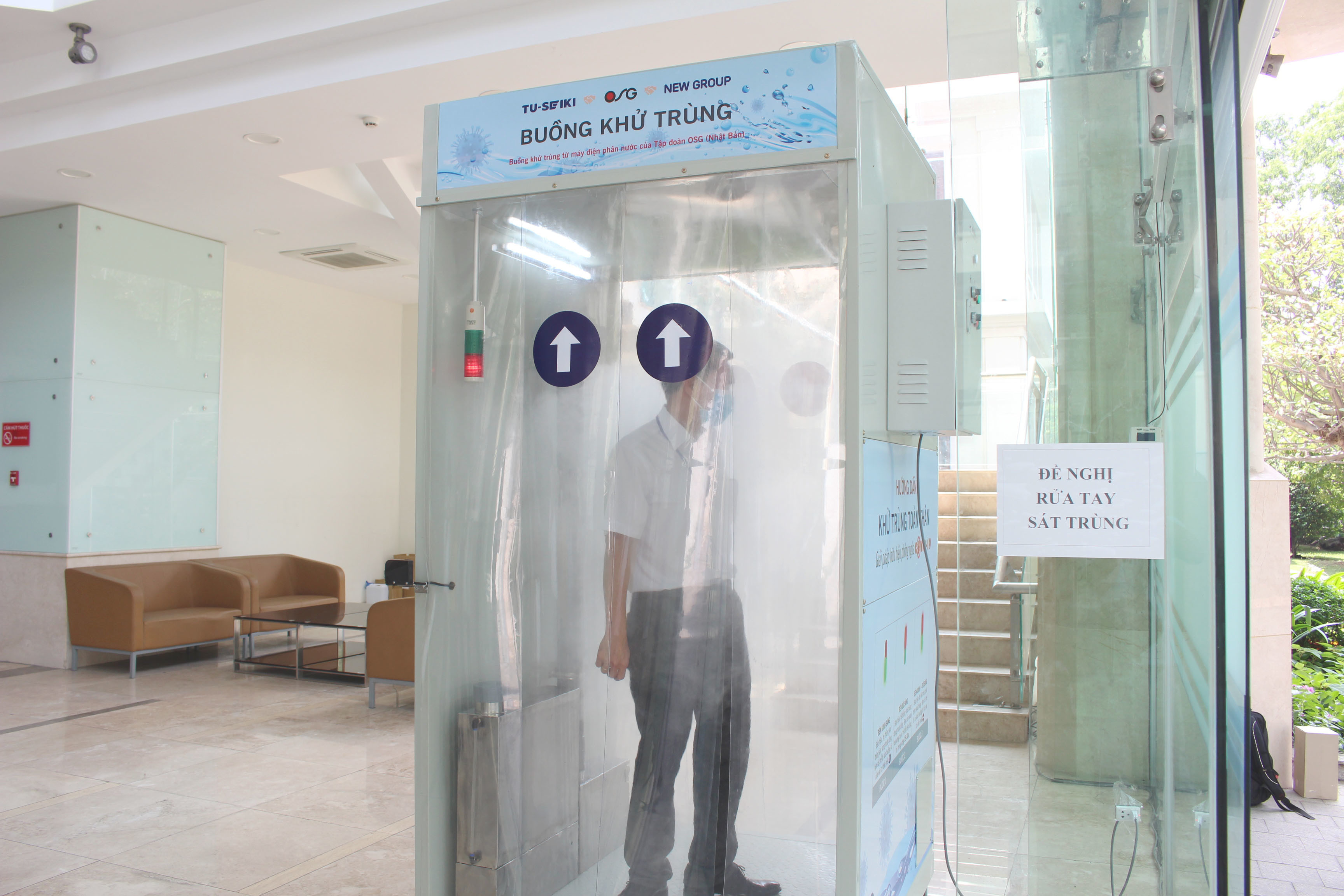 Using the test of a mobile full-body sterilization chamber at the headquarters of HCM City Party Committee
Hypochlorous Acid Portable Full Body Sterilization Chamber is currently appreciated for its usability and convenience because of its ease of installation, reasonable cost, not taking up too much space, creating making a great contribution to the cause of the entire population fighting against epidemics today. Frame material is made from high quality powder coated steel, so it is quite sturdy and brings aesthetics to the sterilization chamber. The 4-wheel design installed below the product will make it easier to navigate to different locations. In addition, the floor is made of non-slip, high-strength materials with 4 rubber feet that keep fixed, creating a sense of stability, limiting vibration, providing peace of mind when stepping on the reducing chamber. coincide.
In the situation of Corona virus spread and outbreak, installing this product in public places is an effective solution to improve infection control, making people feel secure in reducing infection. infected, join hands to repel the epidemic to bring a peaceful life back to the past.