Donate hand sanitizer sink and electrolytic machine OSG PG-3.0 to HCMC Department of Health
TU-SEIKI Joint Stock Company has just completed and awarded to Ho Chi Minh City Department of Health "Hand wash basin made of hypochlorous acid water" electrolyzed from PG-3.0 equipment using advanced technology of OSG Group (Japan Copy).
The situation of COVID-19 translation took place complicatedly, just on April 29, 2020, TU-SEIKI Joint Stock Company and New Group Corporation awarded a PG-3.0 sterilization water generator of OSG Corporation (Japan. ) and successfully installed a sterile hand wash basin system put into use at the HCMC Department of Health.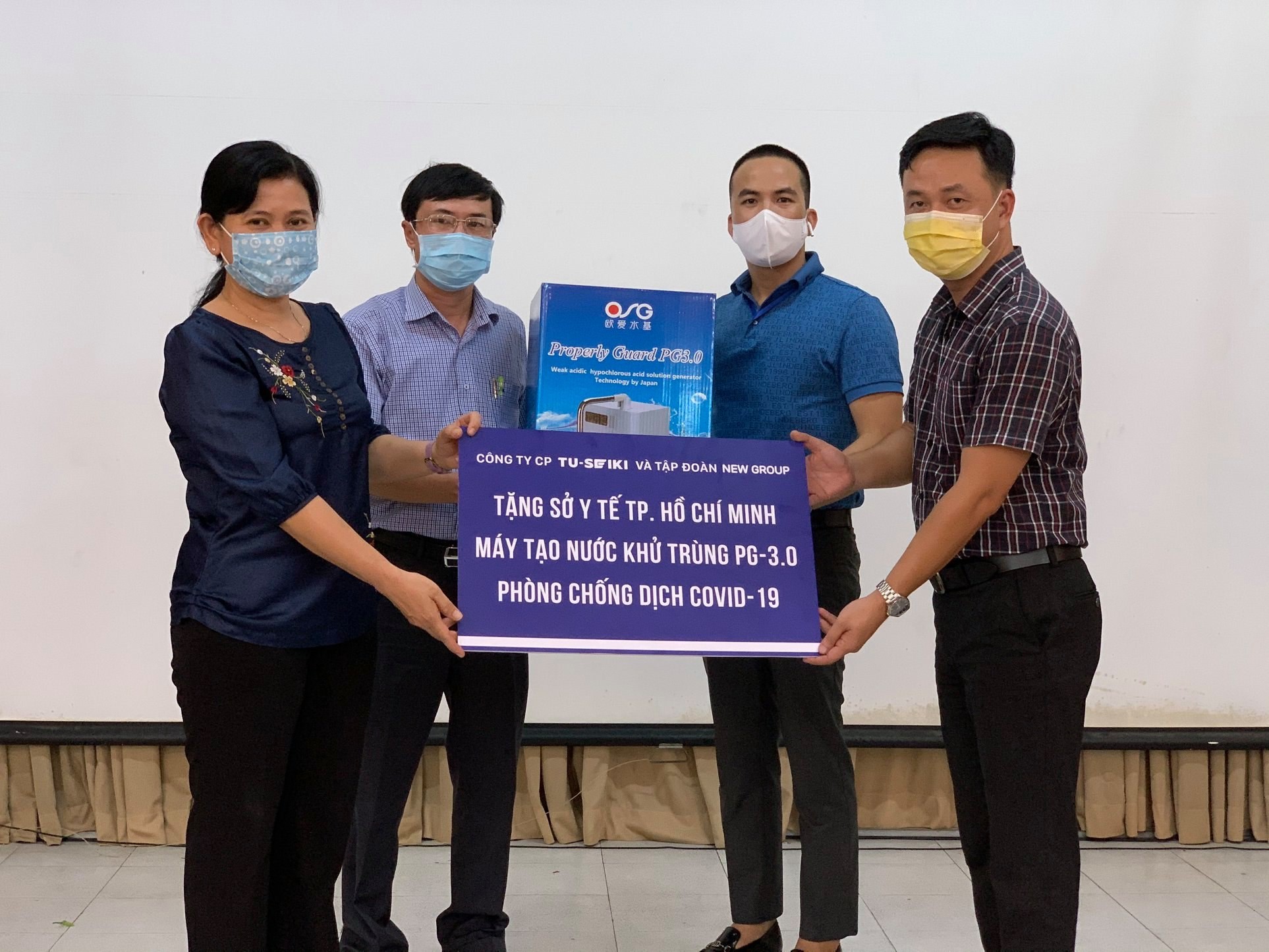 TU-SEIKI and NewGroup awarded OSG's PG-3.0 Hypochlorous Acid Disinfection Electrolysis Machine to the Department of Health of Ho Chi Minh City.
Ms. Huynh Ky Nga (Director of TU-SEIKI Joint Stock Company) said: "TU-SEIKI wants to join hands with the country, contribute to repel dangerous epidemics that are outbreaking in the community. The donation of a elimination system. Applying new technology from Japan to create hypochlorous acid disinfection water for the Department of Health of Ho Chi Minh City, bringing a safe disinfection solution is very practical and effective today.
An antiseptic hand wash basin is a type of hand wash basin under running water without soap, within 10-20 seconds, helping to kill 99.99% of hand bacteria. At the hand sink, tap water is supplied directly to the PG-3.0 device, after electrolysis to disinfectant hypochlorous acid (HOCl), the HOCl water will be led to the tank located inside the sink. Then, just turn on the faucet and wash your hands according to the instructions to properly and effectively disinfect your hands.
Image of antiseptic hand wash basin located at the health department of Ho Chi Minh City,
using HClO disinfectant water
The hand wash basin has a complete design of 304 stainless steel sink with the frame structure and the base is a safe and luxurious powder coated steel. The whole device is compact and compact with dimensions: Length 120 x Width 60 x Height 210 (cm) with 4 flexible wheels, can be installed and moved in any location, especially in the areas. public sectors such as supermarkets, schools, hospitals, community gathering places.
To create safe disinfectant water, Single Cell electrolysis technology is used in this invention. The inlet water is purified before being put into electrolysis. Water after passing through the device has a pH of 3.0 – 6.5, is stable and has high antiseptic properties but ensures safety for hands and objects.
TU-SEIKI is presenting the principle of operation and usage and application of the PG-3.0 machine in the medical industry.
There is always a certain amount of salt in water, when through direct current, electrolysis takes place and produces a finished product, Hypochlorous acid antiseptic solution, which can oxidize bacteria in seconds thanks to the ability of bacteria to break down the cell screens, according to research, HOCL detergent kills pathogens and bacteria 70-80 times more effective than bleach.
Unlike other antiseptic solutions, the water from the OSG hand sanitizer is safe and does not irritate the skin and does not cause burns. In addition to the purposes of hand disinfection, this water can be used for other antiseptic purposes such as washing fruits, vegetables, cleaning objects, and public hygiene. With a capacity of 300 liters of disinfectant water per hour, the device meets the diverse and continuous needs of use.